In honour of Halloween let's talk about Christmas! I know, I know I'm not living in the moment, pushing the season, blah, blah, blah. But. BUT… there have been snowstorms in the USA and in Northern Ontario and it is the happiest time of the year. I'm sure my good friend Travwho is already rocking the Christmas music.
This house is made for Christmas, I can feel it in my bones. I mentioned that to my husband and he asked how much overtime he needs to do to support our Christmas decorating. I simply told him that if he works from now until Christmas 2013 without a break we may come out even. So I have big plans! HUGE plans! I was up in the wee hours of the morning thinking about these plans.
Wreaths!
I'm thinking 2 of these for my door. Or something simliar. I'm also planning lots of greenery for the front porch and possibly a tree out there. I want classy and elegant. I may have to donate the blue Christmas lights we have. I think simple white lights is the way to go. AND our house has these beautiful little pot lights on it that illuminate it in just the right way.
The old owners of our house still get random bits of mail delivered. The other day a Restoration Hardware Baby&Child  magazine was dropped off.  My eyes were opened. I need to subscribe to that magazine!  So the one major thing that I want to recreate from it is this gorgeous advent stocking countdown calendar.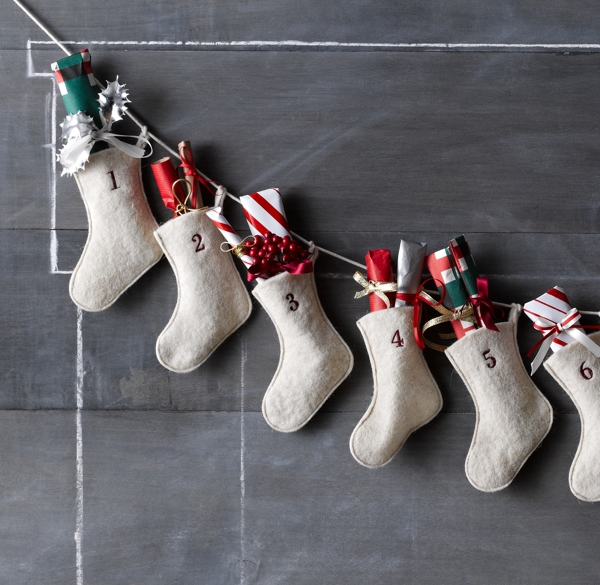 I think my stockings will have to be a bit bigger to fit enough 'gifts' in. Oh the fun I will have! There is so much more that I will show you. This place will be over the top festive by December 25th.